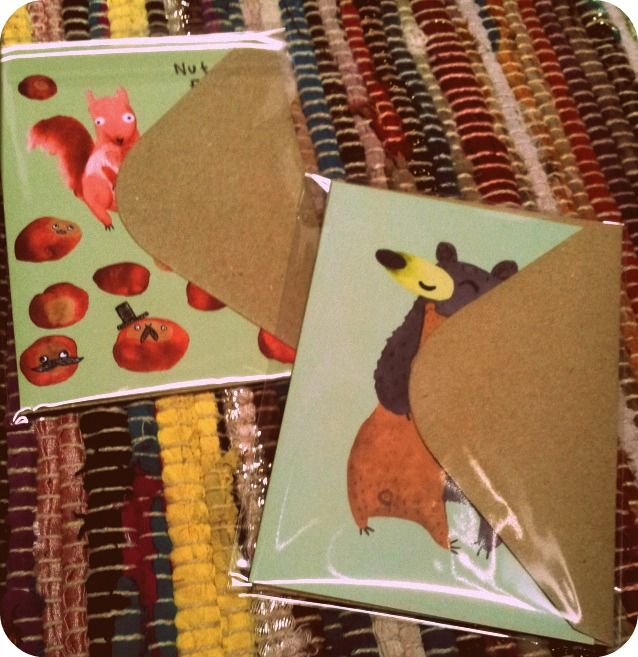 I've been lucky enough to have sold quite a few cards via
Etsy
and
RedBubble
recently. Since having my design featured on the RedBubble banner, my sales in shirts have also gone up. Some people are actually wearing my designs, somewhere in the world. That's
way
too exciting to me. I try not to charge a lot for my work, because just sending it out to people and knowing that they enjoy something I made, is way more worthwhile than trying to earn lots of money. I know it's a cliché, but it's true. To the people who have bought my designs, I offer up my most sincere thank-you ~ each sale gives me so much encouragement to keep drawing and making things!
It's weird to think some of my doodlings are flying over the ocean to Australia and America... Here's a few photos of pre-posted
Etsy
sold orders, just because.
Be it a greetings card, shirt, or a little crafted something, sharing my creations with people gives me such a huge amount of joy, that I have been
thinking of renting a stall
once Uni is over in a few months. My sister
Katie
is also super-keen on this idea, and is hyper-talented too... so that's exciting. And it's good to know I have a like-minded partner in crime. It should give me something to think about and work for, once my modules are over and I am thrown head-first into what They call the
'Real World'
. If anyone has any hints or tips, or even just opinions, please do let me know! I'm new to all this, but I think maintaining a stall will be worthwhile... or at least be an... interesting experience.
Soph x